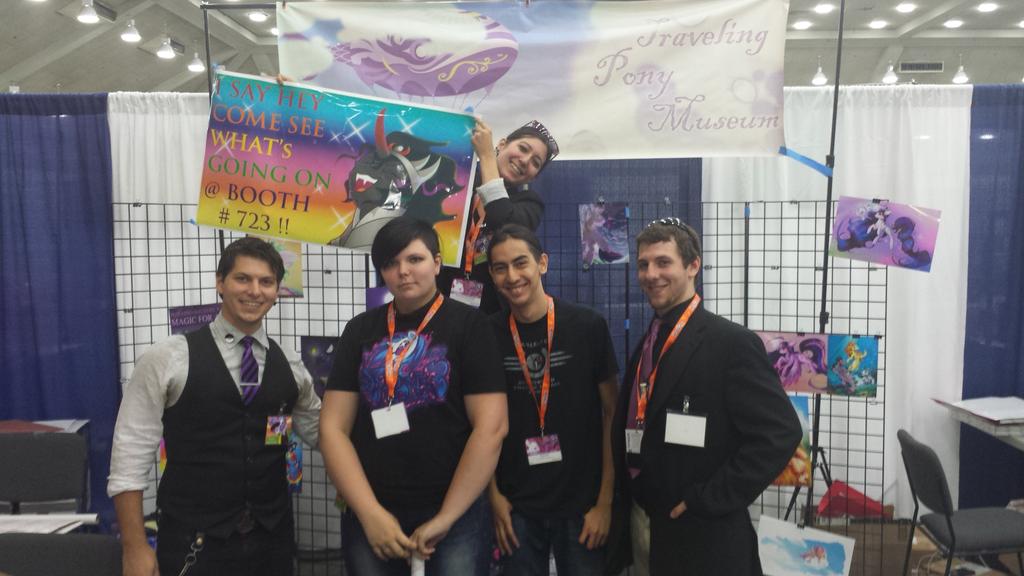 Meet the Traveling Pony Museum Core Staff!
Inky Notebook (Megan Youmans) : Top
Italian Thane (Fabrizio Milito) : Left
Alpha (Andy Kollar) : Middle Left
Dust Off (Sacha Garcia) : Middle Right
Slick Deals (Connor Cheely) : Right
Hello again everyone!
Reminder : We're asking all artists, new and old, with us to please go here and fill out our new survey form here
Furthermore, we're taking a survey of all of our artists to see who would be up for having their artwork printed on t-shirts and messenger bags via heat press at the museum store. ((THESE ARE NOT OUTSOURCED - WE WILL BE MAKING THESE ITEMS OURSELVES))
We are also taking interest in having an online store since so many people ask us all the time about having one.
If you are interested - or NOT interested - in t-shirts/bags AND/OR the online store please fill out this form here for our records here
Unfortunately due to the official museum car having bad engine problems we have had to cancel BronyCAN. To make up for this we are in the process of attempting to book extra fall conventions. We deeply apologize for the inconvenience.
We're back from a super exhausting weekend at BronyCon. Our vendor booth got swarmed by customers the entirety of the convention. We had almost 15 people minimum at any given time and at max customers were blocking the entire aisle. It was super intense but we're glad that customers loved everyones artwork! We actually had to close print orders at noon on Sunday because we got so backlogged with orders in the morning we couldn't keep up. We're hoping to add more printers to allieviate this issue in the future. We also had people buying out our display artwork becuase we couldn't keep up with stock demands. When we left BronyCon we barely had anything to take home! That's super fantastic and we hope we can keep up our sales like that at future conventions.
Many people approached us and were asking where our museum display was. Unfortunately due to BronyCon space issues we couldn't have the display. Attendees told us that our museum display was their favorite part of BronyCon. Wow, that was a huge honor to hear. Please, everyone, tell BronyCon you want the museum display back for next year!
We got a couple of new donations for the museum display and we signed on a few brand new artists as well.
We got to test our Emergency Print Service at the convention with Assassin Monkey and Bald Dumbo Rat. We are currently looking into purchasing a third printer to set aside just for Emergency Services at conventions for artists so that they do not have to wait due to our print on demand order queues.
Super Big News Time : We are in the process of working out an awesome potential business deal with a company and a convention. Please stay tuned! This could also mean opportunities for you all as artists.
Sidenote for those who haven't seen it yet:
The museum is in the process of going under a huge revamp. Currently we have some super big plans for the future of the museum. We realize some of the ways we went about things in the past didn't make us happy and so we're aiming to be able to contribute much more back to our artists and the fandom community. We're also going to be expanding into other art mediums such as 3D digital art via a projector system and we aim to be able to work with some of the older MLP fandom artists to create more of a history showcase of how the show has grown and developed.
We're also now accepting NON-MLP artwork for our vendor table! We tested Steven Universe posters and badges at BronyCon and they had a very good reception.
Speaking of badges, we are now making custom laminated badges for our vendor table. We tested out a bunch of artists artwork on them and they were purchased like crazy. We will be expanding our badge offerings so everyone can get in on badge sales. Don't worry, you don't have to do anything - it's all automatic on our side. We want to get you all as many sales as possible.
We just finished our first prototype of a CNC milled wood cutie mark charm. We will be testing out other designs these next few weeks and getting them ready to hit our store. We're also fixing up our old laser cutter for more fun charm based items.
We would like to thank BronyCon for their amazing help and service during the convention. They all helped us out a lot and we are definitely looking forward to attending in 2016 as well. BronyCon staff in turn complemented us on how we conducted our store and had things running in the vendor hall.
Services! :

We have an amazing print on demand system which we run through two high quality, high resolution Epson photo printers.

Our printers both produce professional and high quality prints.
We pay our artists their full percentage profit always. There may have been some confusion in the past based off artists who were not getting printed so we made a new system in order to alleviate that and make everything fair for everyone working with us.

We've made a brand new store system in order to better track our sales and be able to provide more information to you, the artists.

Since we're starting from the ground up, we're contacting everyone to re-establish premissions for display and for sale so we can compile an awesome art booklet for con attendees to flip through and see everything they can buy through us. We have multiple laptops on site at all times to allow our customers to see exactly what they're purchasing before they buy.

Officially opened up Emergency Print Services for artists at conventions who run out of stock.
What are the Traveling Pony Museum staff working on?

New security system for the museum. We have not had any issues in the past but we feel that at this point in the museums growth that we should implement motion sensing security cameras for overnight. These cameras will also enable us to livestream conventions!

STORE AND REGISTER SYSTEM HAVE BEEN UPDATED

We're expanding into selling physical merchandise for our artists such as glass etchings, paracord belts, patches, stickers and more! Let us know if you want to participate. WE HAVE INCLUDED PARACORD BELTS, BADGES AND BUTTONS OFFICIALLY IN OUR STORE.

We're going to be working towards letting our artists know what characters have been selling well so artists can update their sales pieces with us. LOOK FORWARD TO THIS IN PART 2 OF OUR POST-BRONYCON UPDATE

We've been testing an artist table where attendees can come and try out our art tablets (Intuos, Cintiq, etc) on Photoshop, Sai, Paint, Manga Studio 5, etc. It's been a big hit so far so we're looking to permanently integrate this into the museum as part of our display.

Tours / Audio tours - We're considering setting up proper tours / audio tours of the museum to better talk about pieces, the artists and the artists inspirations behind the pieces. More information will come in our further documents that we will be sending to artists.
Important: Artists, please send us the full resolution of your art. If your artwork for sale is not high resolution then it can come out looking grainy or fuzzy when printed. Artists can send these files to TravelingPonyMuseum@gmail.com
</b>
Potential Artists
We currently have over 300 artists working and displaying with the Traveling Pony Museum. We've also been sending out invites to more artists every single day. As of this update post we've onboarded over 50 brand new artists since TrotCon. Check our our website - www.travelingponymuseum.com - and our deviantart - www.mlp-fim-tpm.deviantart.com - for more information and feel free to email us questions!
-The Traveling Pony Museum Team
ARTIST PAYMENTS WILL BE UPDATED IN PART 2 OF OUR POST-BRONYCON UPDATE !
WE ARE TAKING A BIT LONGER WITH IT SO WE CAN LET EVERYONE SEE OTHER ARTISTS SALES NEXT TO THEIR OWN SALES WITH REFERENCE IMAGES. WE WOULD LIKE TO BE AS TRANSPARENT AS POSSIBLE SO PLEASE BEAR WITH US AS WE PREP THESE DOCUMENTS FOR YOU ALL.</b>
We are asking that all artists please contact us with paypal information so we can send out payments. We do not have everyones paypal on file. Please contact us at TravelingPonyMuseum@gmail.com